I invented this game (with Karen Bryla) because it seems like when you know someone well enough, 75-80% of any Rock-Paper-Scissors games you play with that person end up in a tie. Well, here is a slight variation that reduces that probability. (Note that for those of you who like to swing your fist back and forth and say, "Rock, Paper, Scissors, GO!", might want to continue to do that, replacing "Rock" with "One," "Paper" with "Two," and "Scissors" with "Three.") This version is also nice because it satisfies the Law of Fives.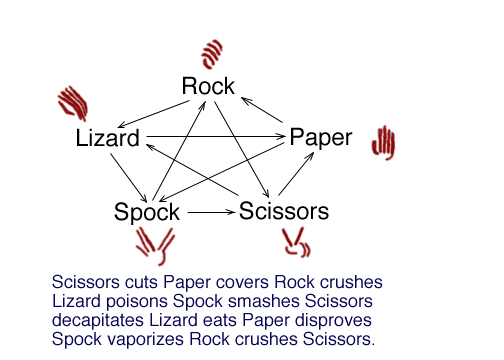 Notes from Sam (2012):
Thanks for the shout-out, Big Bang Theory!
If you want official RPSSL merchandise, you can buy my own designs from
my CafePress site
(now closed), also now linked on the left. And if you really don't like my designs, there are other folks on CafePress who seem to be having fun with their own designs.
It was fun meeting people at the Pittsburgh Comicon. I put the new "red banner" design from the show up on the
CafePress site
, as well as t-shirts of all sizes that people asked about. And congratulations to Jacob for winning the first ever RPSLS tournament I had the opportunity to officiate!
More Notes from Sam (2021):
I am going to create a unique NFT for several of the original graphics associated with RPSLS. If you are interested in buying the singular, unique NFT associated with some original RPSLS artwork, see below:
Yes, that Reddit post on r/bigbangtheory is real. (Again!)